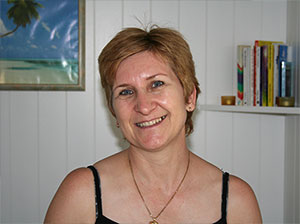 Hello and Welcome to my functional, Integrated Therapies, in Manly West, Brisbane.

Who is Heidi Hirschy?
----an optimistic, enthusiastic and joy-bringer (numerology number 3), who believes that we can inspire each other to heal ourselves and our surroundings together with a team effort.

From a very young age, I have chosen to make every day a beautiful one; being positively fulfilled with happiness in work and with my family, surrounded by kind people and being inspired by unique and spiritual friends. Originally from Switzerland, my soul husband Francois and our two amazing children, Christian and Sylvie moved to Wynnum/ Manly in late 1982. While my husband built a successful local business, I kept 'my healing hands' in nursing for over a decade.

In early 2004, my life changed; I searched for a new challenge and a new future in my life direction. I loved to be part of being a holistic healer (not orthodox) but my 'knowing' was more like a functional, integrated healer, caring for our Mother Earth as much as for people's wellbeing with a natural approach, on many levels…to be pain free and to enjoy a happy life. 

Bowen Therapy:
A very special friend, for whom I am very grateful for her intuitive guidance, Joan Smith, referred me to Bowen Therapy - Fascial Kinetics.

Russell Sturgess has a wonderful philosophy of life and how Bowen Therapy works, and he covered techniques and underpinning scientific/ anatomical knowledge, shared with TCM (Traditional Chinese Medicine), Tissue Salts a homeopathic essential nutrients to good health, numerology, spirituality and heaps more. 

I found I was on my right path...I loved it and knew this magical therapy could change many peoples' lives, and mine as well.
I did my Certificate IV - Bowen Therapy with Russell Sturgess in 2007. See for more details - http://www.fascialkinetics.com And I finished my Bowen Diploma with Dr Neil Skilbeck in 2008. 
But I was striving to be better and more educated. I just wanted to learn so much more….and as it was meant to be, not long after...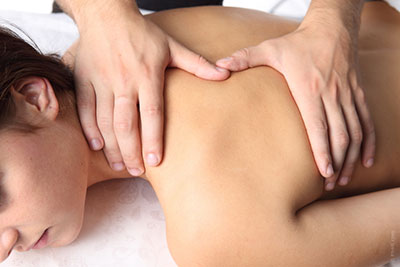 The Dorn Method appeared:
I visited my hometown in early 2006, traveling via Stuttgart (Germany), and I learned about a method called Dorn Spinal Therapy and it was just what I needed to complement my Bowen treatments. This holistic healing system and the True Self Help method is able to correct many joint complaints, hip and spine misalignments in a gentle, effective and safe way. Barbara Simon was my first teacher from Sydney in 2006. My colleague Aileen Scott (whom I met at the course) and myself then had the opportunity to invite Thomas Zudrell, MD (AM), an international seminar Lecturer, to Australia to share this amazing Dorn Method and Breuss Massage in 2007, 2008 and 2010. Thomas is a very patient teacher and I loved his mission of sharing the Dorn Method around the world, either to any medical background therapist or even the layman who could learn this simple effective healing method.

I did my Certificate - Advanced Dorn Method in 2007 and earned my Dorn Instructor in 2010.
See for more details - http://www.dorn-method.com

Musculoskeletal (Myopractic):
I followed further education with Dr Neil Skilbeck DC, Academy of Integrated Therapies and enjoyed a new level of learning. Neil's teaching is very profound in orthopedic tests, analyzing and identifying the muscle and bone structure, misalignments and much more. I learned so much that I felt very confident to treat most complaints in our field. Neil has over 40 years experience in body work and also has been taught by Tom Bowen as one of his later 'boys'.

I did my Certificate 4 – Musculoskeletal in 2012.
See for more details - http://www.aoit.com.au
I'm very grateful to all my teachers, who have shared their gifted techniques with me to assist so many patients. Without them, I would still be looking for a higher level of healing in myself and for others.

My curiosity of learning will never stop; I will continue to study, research and develop many ways to assist our physical, emotional, mental and also spiritual life journeys. My passion is that humanity will again Live a true Life, to enjoy this beautiful Earth, vibrations and abundance of Love we have been given for a very short time; to feel and give in this life time to each other. Life is abundant of love, wisdom and healing power. Let's all share and help each other to create peace and happiness. Let's all assist others to be the healthiest and happiest possible and as quickly as the body allows us to recover and be pain free on all levels. Together, we all will enjoy the beauty of our gift of life.

This is me today, a functional, holistic healer, a friend to many, a therapist and teacher, with every treatment and now even facilitating workshops.

Therapies today are:
Allergies - Hair Analysis Test
Bowen Therapy
Dorn Spinal Method - Instructor
Hypertonic -X - Sports Kinesiology
Modern Cupping
Musculoskeletal Therapy (Myoprac)
Theta Healing
Trauma Release Exercises (TRE)
Usui Reiki Master